STANDARD SCALING INSERTS
Suitable for considerable supragingival tartar removal. Different shapes efficient in the interdental spaces or mesial and distal interdental surfaces in the posterior area. Oscillation 70-90 μm.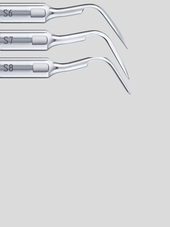 HIGH EFFICIENCY SCALING INSERTS
High efficiency inserts compared to a standard scaling inserts. Clinical applications: considerable supragingival tartar removal, efficient in the interdental spaces and posterior surfaces. Oscillation 120-180 μm.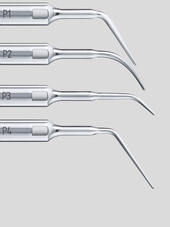 UNIVERSAL PERIO INSERTS
For concrement and biofilm removal from root surfaces and in furcations.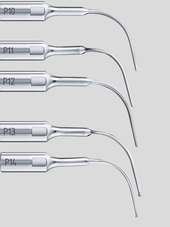 ANATOMIC PERIO INSERTS
The anatomic shape of perio anatomic inserts allows a biofilm and concrement removal from deep periodontal pockets. Their filigree shape allows a gentle and nearly painless treatment.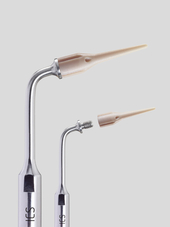 IMPLANT CLEANING INSERT
Tip IC1 – 100% PEEK (high tech plastics) for maximum respect of the implant surface
Slim form of tipholder ICS allows optimal access and perfect view even in posterior regions
Tipholder ICS and tip IC1 are both sterilisable and reusable.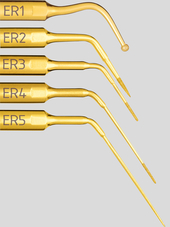 ENDODONTIC REVISION INSERTS
Exposure and removal of root pins, fast and effective removal of calcifications in the coronal third of the root, removal of fractured root inserts – the ER inserts cover the complete spectrum of endodontic revision treatment.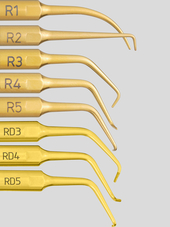 RETRO ENDODONTIC INSERTS
Endo retro inserts assure a satisfying solution to the root canal apical access issue. Their thin and 90° angled structure allows a conservative cut through a minimum wide bone window. These advantages facilitate wound healing and spare the patient useless pain.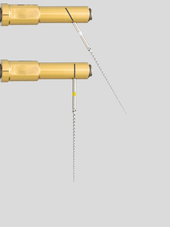 ENDONTIC FILES
Mectron endo files allow a fast root canal preparation for the consequent tridimensional filling treatment. The liquid irrigation activated by the ultrasonic system arises a double effect: The root canal disinfection allowed by a bactericidal action combined to the file vibrational temperature increase and the drags removal generated by an acoustic streaming outcome.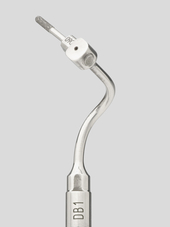 CROWN PREPARATION INSERTS
The crown prep tips are dedicated to the preparation and finishing of subgingival margins. Due to the particular morphology the tips could be used in contact with the margin without damaging the surrounding soft tissue. The preparation margin could be positioned subgingival with more comfort for the patient. The special shape of the tipholder allows an optimal view on the preparation field. The tipholder brings the crown prep tips to an elliptic movement and enable therefore a circular preparation of the tooth.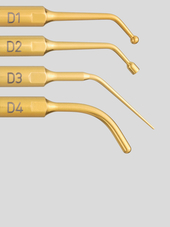 RESTORATIVE INSERTS
Dry working inserts for different indications in restorative dentistry, such as amalgam condensation in class I, II and V preparations, crown, bridges and metal points removal, lateral condensation of guttapercha.